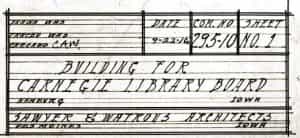 Signature of Architects Sawyer & Watrous
Sawyer & Watrous
The firm of Sawyer & Watrous received the commission for the Hamburg Public Library (1915).
Ralph Edmund Sawyer (1873-1947) was born in Boston, and in 1895 he enrolled in the architectural course at Massachusetts Institute of Technology (MIT), finishing in 1897.[1] After his graduation, he worked in Boston with E.B. Homer from 1897-1901, and then with E.Q. Sylvester from 1901-1907. In 1905 he formed a partnership with Charles A. Watrous, another MIT graduate, who opened an office in Des Moines. By 1909, Sawyer had also moved to Des Moines, and they designed several homes and buildings. Sawyer is credited as being the designer in the partnership while Watrous supervised the construction.
Charles Albert Watrous (1875-1940) was born in Des Moines, and he worked for George Hallett, a Des Moines architect between 1894 and 1895.[2] Watrous graduated from the Massachusetts Institute of Technology in 1899, and he worked for several architects in Boston. By 1905 he had formed a partnership with Ralph E. Sawyer, and Watrous returned to Des Moines to open a firm there. While Watrous was credited as being the construction supervisor of the firm, his initials appear on the drawings for the commission for the Hamburg Public Library (1915), which predates his service in World War I.
                                                                                                                                                                SL Stuart
Footnotes
[1] Wesley I. Shank, Iowa's Historic Architects: A Biographical Dictionary, (Iowa City, IA: University of Iowa Press, 1999), p. 146.
[2] Ibid., pp. 171-72.
Sawyer & Watrous Blueprints
(Click on an image to learn more about each library.)