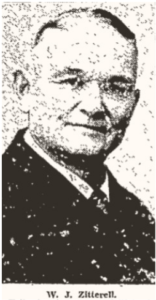 1908, Jun. 6, Zitterell to Kimball Bros.' Co. Elevator Works Letter
1908, Jun. 6, Zitterell to Kimball Bros.' Co. Elevator Works Order Form
1908, Jun. 6, Zitterell to Kimball Bros.' Co. Elevator Works Elevator Diagram
1908, Jun. 6, Zitterell to Kimball Bros.' Co. Elevator Works Envelope
W. J. Zitterell was a contractor known throughout the state of Iowa as an aggressive contractor with iron nerves.
W. J. Zitterell was twice president of the trade association Master Builders of Iowa.[1] The association was organized in 1912. Mr. Zitterell's first term as president was in 1914 and secondly in 1927.
William John Zitterell was born on April 28, 1860 in Jackson County, Iowa to John and Catherine Latta Zitterell and grew up in Maquoketa.[2][3] At the young age of 14 he left school to follow in his father's footsteps in the masonry industry and went to work as a bricklayer's apprentice.[4][5] At the age of 23, William was wed to Anna McClurg on May 09, 1883 in Jackson County, Iowa.[6] In April of the following year, daughter Wynnie Grace Zitterell was born. The 1895 census records show that Mr. Zitterell had moved his family to Sac County, Iowa. After years of hard work, he had thoroughly learned the bricklaying business.[7] It is while he was residing in Lake View that he began contracting work on his own account. After the death of Mrs. Zitterell in 1896, Mr. Zitterell and his daughter moved to Webster City, Iowa. It is here that his career as a reputable contractor began to materialize. In his drive for success The Des Moines Register reported that Mr. Zitterell won the bid to build the New Hampton Fireman's Hall. The article notes that, "The hall will be the largest and finest in northern Iowa."[8]
Mr. Zitterell built a name for himself with every construction job he completed. He not only won the bids for numerous edifices in Webster City, but also around the state of Iowa. To his accomplishment he was the contractor for the Carnegie libraries at: Audubon, Carroll and Colfax; as well as the Grinnell College academic library at Grinnell, Iowa.[9][10][11][12] In 1901, Mr. Zitterell built his home at 821 Division Street, Webster City, Iowa.[13] Between 1904 and 1905, Mr. Zitterell built the Kendall Young Library located at 1201 Willson Avenue, Webster City, Iowa.[14] Both are listed on the National Register of Historic Places. Additionally, the Carroll Public Library erected at 125 East Sixth Street, Carroll, Iowa takes its place on the National Register of Historic Places.[15][16]
Mr. Zitterell held membership in the Masonic orders; accordingly he personally laid the corner stone of the Masonic temple in Webster City. He was also a member of the Webster City Benevolent and Protective Order of Elks, the Webster City Outing Club as well as state and national builder's associations.[17]
In 1917 he took Guy C. Mills, who had been with him for years, into full partnership; the firm then became known as Zitterell-Mills Co. On August 14, 1932 William J. Zitterell passed away at his home on Division Street in Webster City. He is buried in Graceland Cemetery, Webster City, Iowa. After an 89-year history Zitterell-Mills Co., the construction business started by W. J. Zitterell in 1890 closed its doors in June, 1979.[18] Roy S. Mills, 84, was President of Zitterell-Mills, as was his father before him [after the passing of Mr. Zitterell]. Jack Bateman, 64, was the second Secretary – Treasurer in the company's history. Mr. Bateman held that position for 30 years. The first to hold the position of Secretary – Treasurer was Jack Bateman's father, James A. Bateman.[19] At the time of its closing, Zitterell-Mills was second only to Weitz Co., Inc. as oldest general construction company in Iowa.
-Joyce E. Jessen
Footnotes
[1] Nichole Fry; nfry@mbi.build; Master Builders of Iowa. 10/01/2020 Carnegie
[2] Familysearch.org / William John Zitterell tree
[3] Daily Freeman Tribune (Webster City, Iowa); April 05, 1909, Page 5
[4] Daily Freeman Journal (Webster City, Iowa); August 30, 1932, Page 3
[5] Familysearch.org / John P. Zitterell / Iowa, County Death Records
[6]https://www.findagrave.com/memorial/124858599/annott-zitterell
[7] Daily Freeman Journal, (Webster City, Iowa); August 30, 1932, Page 3
[8] The Des Moines Register (Des Moines, Iowa); July 27, 1897, Page 2
[9] The Colfax Clipper, (Colfax, Iowa); August 8th, 1912, Page 10
[10] Evening Times-Republican (Marshalltown, Iowa) September 08, 1904, Page 3
[11] The Colfax Clipper, (Colfax, Iowa); August 8th, 1912, Page 10
[12] The Register and Leader (Des Moines, Iowa) April 27, 1904, Page 3
[13] https://npgallery.nps.gov/NRHP/AssetDetail?assetID=7dc6c937-80c0-40ff-a48d-ab890434731c
[14] https://npgallery.nps.gov/NRHP/AssetDetail?assetID=5d27c339-93b5-4aea-87cf-ea4e3a06f325
[15] https://npgallery.nps.gov/NRHP/AssetDetail/784c20ef-a88e-4529-b5da-9827e3512576/
[16] Daily Freeman Journal (Webster City, Iowa); August 30, 1932, Page 3
[17] Daily Freeman Journal (Webster City, Iowa); August 30, 1932, Page 3
[18] Des Moines Register (Des Moines, Iowa); May 06, 1979, Page 51
[19] Daily Freeman Journal (Webster City, Iowa); April 01, 1966, Page 1